About Libya
Location: North Africa, bordering the Mediterranean Sea, between Egypt, Tunisia, and Algeria, southern border with Chad, Niger, and Sudan.
Geographic Coordinates: 25 00 N, 17 00 E.
Area: 1,759,540 million sq. km.
Cities: Tripoli (capital), Benghazi.
Land use: Arable land–1.03%; permanent crops–0.19%; other–98.78%.
Coastline: 1,770 km.
Libya Demographics
Ethnic Groups: Berber and Arab 97%, other 3% (includes Greeks, Maltese, Italians, Egyptians, Pakistanis, Turks, Indians, and Tunisians).
Nationality: Libyan.
Religion: Sunni Muslim 97%, other 3%.
Language: Arabic is the official language and is understood by virtually everyone, about 10% of the population.
Libyan People
Population (est): 6,036,914.
Annual growth rate (est.): 2.262%.
Birth rate (est.): 26.09 births/1,000 population.
Death rate (est.): 3.47 deaths/1,000 population.
Education: Literacy total population 82.6%
Health (est.): Infant mortality rate 22.82 deaths/1,000 live births.
Life expectancy: total pop 76.88 yrs; male 74.1 yrs; female 78.58 yrs.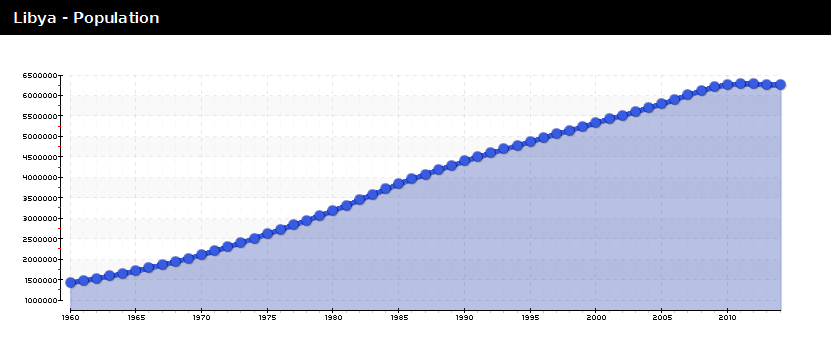 Libyan Economy
GDP (purchasing power parity): $74.72 billion (est.)
GDP (official exchange rate): $57.06 billion (est)
Real GDP growth rate: 5.8%. (est)
GDP – per capita (PPP): $12,400 (est.)
Natural resources: Oil Sector (95% export) – Petroleum, natural gas, gypsum.
Agriculture: Products–wheat, barley, olives, dates, citrus, vegetables, peanuts, soybeans; cattle; approximately 75% of Libya's food is imported.
Industry: petroleum, food processing, textiles, handicrafts, cement.
Exports: $42.97 billion f.o.b. (est.) crude oil, refined petroleum products, natural gas, chemicalsImports:$14.43 billion f.o.b. (est.) machinery, semi-finished goods, food, transport equipment, consumer products.